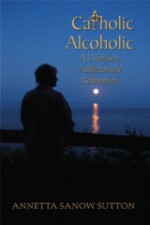 Alcoholism and Catholicism: both are paradoxes. They capture life and death. Joy and suffering. Faith and doubt. Compassion and abuse. Death and resurrection.
In this inspiring autobiographical work, Annetta Sutton takes her readers on a journey of pure redemption. Through the alcohol abuse present in her family, marriage, and career, Annetta bore witness to the disease's devastating wrath. Yet, she chose to be an instrument of peace, to guide others in rising from the ashes. Told through vignettes of her life, Annetta's interactions with addiction touch on themes of abuse, sexual violence, diversity of faith, parenting and families, and much more. Catholic Alcoholic: A Witness to Addiction and Redemption is a testament to the might and perseverance of the human spirit.
April Michelle Davis spent a week proofreading this book immediately before publication. This is usually performed on a manuscript that has already been through developmental or copyediting and has already been laid out by a designer into page proofs. It provides a last review of egregious errors, such as basic grammar, punctuation, spelling, and inconsistencies, and any other errors that were inserted during the design process.