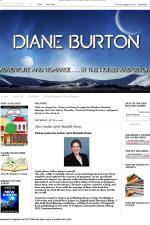 April Michelle Davis and her book, A Princess in Disguise, were featured on June 14, 2017, on Diane Burton's blog Meet the Author Thursday.
Excerpt:
"How long does it take you to write A Princess in Disguise?
"I began thinking about this storyline before there was even a story to write. I grew up with both my parents. After school, I enjoyed watching the Disney cartoons. As I watched Aladdin, I soon realized that the mother of Jasmine was not included in the movie nor in the cartoons, and I began to wonder why or where she was. This realization had me search storylines for the whereabouts of mothers. The mere mention of a character's mother got my attention. Yet, I eventually set aside these ideas.
"When I was in high school, I thought that my ideas could be turned into an interesting story so I began expanding on them. I wrote from my heart until I could write no more, yet the book was not finished. I let my peers read my manuscript hoping that their aspirations for me would drive me forward, yet I set my manuscript aside.
"As a grown woman, I joined a book club where I meant another writer, a writer who inspired me to finish my book by the energy that she expressed through writing and the bond of our same love of writing. I finally finished my book and then the editing began. We edited the book and even had agents request and review the manuscript. Again, I set it aside.
"Then in 2012, my writing partner was murdered, and I could not bear to look at my princess manuscript. In 2014, I met a man who could help me publish my manuscript and who pushed me to do it in honor of my writing partner, and I began editing the book again. Iguana Press initiated a crowdfund to see if there was interest in the story and gain initial funds for the book's production. Midway through the crowdfunding, the campaign suddenly came to a halt as the sale of the crowdfund site fell through and all campaigns were suddenly ended. Though the remaining days of my campaign was held at another site, the momentum that had been building had ceased.
"Upon completion of the campaign, the formal editing process began—with myself in the writer's seat. With my mother as my assistant in helping to review the manuscript, we pushed the book publishing company's editors to their limits because I would not settle for less.
"My book A Princess in Disguise is about a princess on a quest. On the night of her sixteenth birthday and before her father has the chance to force her to marry a complete stranger, Princess Margaret sneaks away from the riches and safety of the palace. Torn between her fate and freedom, Princess Margaret desperately goes looking for her mother as the answer. In a quest of soul searching and physical hardships, the twist of events may take the readers by surprise, instilling a piece of the story in their hearts.
"Today, I acknowledge SaraJane in my book as the lady who inspired me, my dear book club friend. A Princess in Disguise is available on Amazon, at Barnes & Noble, and through other book outlets. Or a signed copy can be ordered directly from me at aprilmichelledavis.com."